Whether you're a casual bettor or an experienced pro, you'll know cricket betting is very popular. Cricket dominates in countries like India and Bangladesh, while the Ashes series between England and Australia is legendary.
We take betting on cricket seriously and believe it's essential to have access to the best tools. This is where our list of the top cricket betting sites online comes in to help you. If you're following cricket tips or your own predictions, knowing which markets are available and how cricket betting works will be a big advantage.
The 10 Best Cricket Betting Sites
More articles on this topic:
Quick Navigation
bet365
Bet365 have consistently topped all cricket betting sites lists. Some choose bet365 because of their live streaming, whereas others are into their attractive odds. Whatever your reason is, you are making the right choice. Although their interface is rarely updated, it's not because it has proven to work. They are big in the UK and India as well. As far as their mobile app goes, it's been an example for many of its competitors.
Betfair
If you are not into classic cricket betting, Betfair are the choice to make. It is the world's biggest betting exchange. Unsurprisingly, they offer a betting exchange for cricket bets as well. Run from the UK, popular across the world, they are in competition with the biggest and the best. Despite the big industry pressure, Betfair have been the go-to bookie and betting exchange for millions of bettors.
Unibet
We like to label them as the "friendly" cricket betting site. Unlike bet365, they pay a great deal of attention to their interface, while keeping cricket odds at a decent level. The Unibet mobile app is something that we're not particularly fond of, but if you are a casual bettor, you won't even notice this. Their live streaming service, UnibetTV has been unreliable in the past, but they've worked hard on it in recent time. In summary, Unibet is recommended to casual cricket bettors.
Best Online Cricket Betting Promotions
A critical factor in determining which bookie is best for your betting needs is the quality of the bookmaker's cricket betting promotions. Making a profit from betting on any sport is difficult, but promotions are usually a great way to boost your winnings. Our online cricket experts have carried out lots of research, and they reveal the very best online cricket promotions below.
Cricket Free Bets – Are they Worth it?
A free bet can make a difference, especially if you're in doubt where to bet online. Nowadays, some online bookmakers put a great emphasis on betting promotions, that some punters prioritise bonus offers over the quality of odds. And why shouldn't they? Especially if we consider the enhanced odds that can make an average cricket match turn into the most exciting thing you've watched this year! In most cases, you will receive a free bet as a welcome bonus, but it's not uncommon betting sites to offer some to existing customers as well.
Nevertheless, make sure that you clearly understand the bonus terms, as it's highly unlikely the free bet you consider claiming now, is the same as the one you claimed a week ago. Regardless of the nature of the betting sites, all free bets come with terms and conditions.
Dafabet First Deposit Bonus
Cricket odds, an online betting experience targeting local needs, and betting markets are that are not easy to match, Dafabet has it all. They pay great attention to the Asian betting markets, the likes of India, Thailand, Vietnam and Bangladesh. But more importantly, Dafabet accepts their local currencies! If you want a cricket free bet now and then, you should consider taking a look at Dafabet's offers in our review.
Features of Top-tier Cricket Bookmakers
You need to consider several different factors when deciding which bookmaker to join. Although subtle, the more the criteria is refined, the better your experience will be with the bookmaker. Below, you can find the factors which we recommend considering.
Accepted Payment Methods which you have access to
Competitive Odds (well-established betting sites)
Cash-out on Cricket (check our reviews if you're not familiar)
Acceptable Wagering Requirements (cricket must qualify)
Access to Cricket Betting Tips (blogs, forums)
The last one is not a top priority since we have cricket betting tips covered. The rest, in the long-term, is vital for any passionate cricket bettor.
To save you some time, the ones we mentioned earlier, like Dafabet, fare best, especially in the markets where cricket plays an important role.
You should be even more careful if you're about to place your first bet ever. There are a lot of traps which every single person can be a victim. The simple, and also the easy solution is to follow our top 10 cricket betting sites list. They have been tested, analysed and vetted by our experienced cricket community members.
Best Cricket Betting App Online
You don't have to be in front of a computer to place bets anymore. In this internet era, access to the latest prices and markets is available anytime, anywhere. Having a useful app forms the foundation of a successful online betting site in the modern day. Cricket fans can get a host of cool features at their fingertips.
💡 TIP! If you're reading this from India, we have an entire page dedicated to India's top apps for betting, including the best cricket apps available in India.
Android
Betting apps are now allowed in the Google play store in some countries. And with Android devices making up over 74% of the global smartphone market, it only makes sense for online bookmakers to ensure that their Android apps are top-notch. This is a huge step forward for the online betting community, especially in countries such as India where Android devices make up over 95% of the market.
In order to find the best cricket betting apps, all we need to do is look at our list of top cricket betting sites. Bookmakers like bet365, Betfair, and LeoVegas Sport are world-renowned for their Android betting apps.
With bet365 mobile betting on cricket is just as easy as it is on desktop, with some even preferring their Android app to their desktop site. Betfair are another international bookmaker who are also really well-known for their betting app for cricket. The fact that they also feature a betting exchange on their cricket betting app for Android also adds an entirely different dimension to the betting experience. 
LeoVegas is slightly different as this betting operator was specifically founded to provide the best mobile betting experience possible. It comes as no surprise that LeoVegas is often referring to as the best cricket betting app on Android. While people in many territories will still need to sideload the app (more on how to do this on our page on betting apps), it still only takes a minute or two to download, install, and log in to their Android app.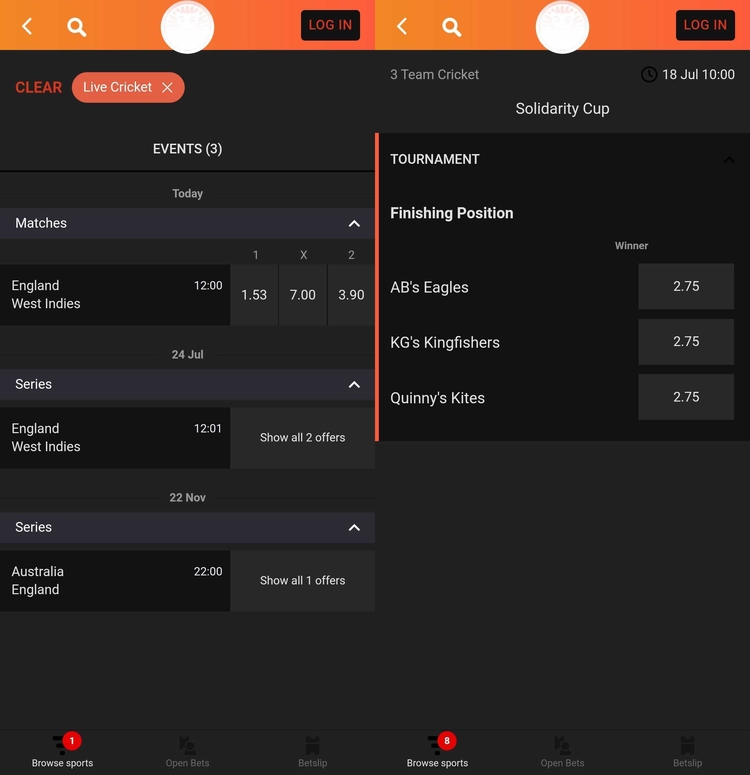 iOS
Thankfully, Apple have been more accommodating for cricket betting apps in the past. iOS users have often had the pick of the pack when it comes to placing bets in just a few taps of a screen. There are even extra payment methods such as Apple Pay available to you for that extra piece of security when using cricket betting apps.
Checking out what a bookmaker has to offer for smartphones or tablets is a key part of our review process. More people than ever before wagering on their devices. Some betting sites such as LeoVegas prioritise the mobile experience. 
In some ways, iOS users are luckier than Android users as bookmakers generally find it much easier to list their cricket betting apps on Apple's App Store. Where iOS are less lucky, however, is that if an app isn't listed on the App Store, there's no way to install the cricket betting app on your iPhone or iPad without jailbreaking your device and voiding your warranty.
If you're likely to use a cricket betting app more than a desktop computer, it's definitely worth considering what a bookie has to offer in this area.
Live Cricket Betting
Many sports events are over in two hours at the most. Not cricket though. Depending on the format you can bet on cricket matches for up to five days at a time.
This has seen live cricket betting grow to incredible popularity. Even the shortest international form – called Twenty20 or T20 cricket – usually takes around four hours to complete, so there's plenty of time to bet in-play.
In many cases there are more live cricket markets to bet on than before the event begins. Bookmakers have increased their offering during matches with dozens of different options on major matches. Read more below in our guide to cricket betting markets.
Many betting sites even offer live cricket statistics such as scoreboards or commentary. This means you can stay up to date with the action and see the latest odds all in one place.
💡TIP! Don't forget that many cricket betting sites allow punters to use their bonus funds or free bets on in-play bets too! Check out our section on cricket betting promotions above for more info!
Live Cricket Streaming Sites
One of the biggest advantages of placing bets on cricket online is the opportunity to watch the action in real-time. Several of our top-rated betting sites including bet365 have live streaming available on a range of different sports, including cricket. This is a service you often see with the biggest names in betting.
What's available on the live cricket streaming front will depend on your location. Different countries will have their own choice of matches. In the past we've seen a huge selection of Test matches, One Day Internationals and T20 contests available.
Domestic competitions such as the IPL, Pakistan Super League, Big Bash League and many more are on offer. In order to access the stream, just head to the match page as the start time approaches.
As always, this feature of betting sites will only be accessible if your account is funded or active. This means you must have a minimum balance available upon logging in, or have placed a bet in the last 24 hours. It's not essential to bet on a cricket match in order to watch the live stream though.
Fantasy Cricket Sites
Recent and unconventional, yet extremely popular among passionate cricket fans. Finding a fantasy cricket site might seem hard. And it is, only if you don't know where to look for.
Note, fantasy sports, including fantasy cricket are not for everyone. It is not as simple as it appears to be. You can still lose real money. We are not big fans of fantasy cricket, but if you happen to be one, you probably know what you should be doing.
DraftStars
Draftstars are synonymous with fantasy sports, to that extent that people think it started with them. Whether you're in the United Kingdom or India, or any other region, Draftstars will allow you to register with them. They go above and beyond to ensure they deliver top-class fantasy cricket betting offer.
How to Bet on Cricket?
Log in to your account or register with one of the best cricket betting sites.
Select "Cricket" from the main menu. Many online bookmakers have an A-Z list of sports.
Choose from upcoming cricket events or live matches
Identify your bet and ensure you know how the market works.
Click to add the bet to your online bet slip.
Enter your chosen stake and check the expected returns accordingly.
Click to confirm your selection. Usually this button is called "Bet" or "Confirm".
Cricket Betting Markets Explained
| | | |
| --- | --- | --- |
| Betting Market | Risk Level | Recommended for |
| | 1/5 | Beginners |
| | 5/5 | Experts |
| | 2/5 | Casual Betting |
| | 3/5 | Advanced |
| | 2/5 | Beginners |
| | 1/5 | Beginners |
| | 2/5 | Beginners |
Match Winner
This is a cricket betting staple. You're simply back who will win the match in question. In the One Day and T20 formats is usually a two-way outcome. In Test matches though, the draw is factored in. Yes, it's true, you can wait five days for a cricket match to finish and it can still be a draw.
For example, you could pick who you think will win between Mumbai Indians and Chennai Super Kings in the IPL. On another occasion, such as an Ashes Test between England and Australia, the draw will also be available to bet on.
Mode of Next Dismissal
Betting on the mode of next dismissal is one of the more advanced options available to punters. You're picking how the next wicket will fall from several choices such as bowled, caught, LBW, stumped or run-out. Depending on the game situation the odds can vary significantly on each outcome.
Usually, "caught" will be the favourite as this is the most common option. In a T20 game where India's batsman are playing very aggressively, this could be an attractive option, even at shorter odds. However, if you've noticed the ball has begun to swing in a Test, then backing LBW at bigger prices might be the way to go.
Top Batsman
A popular pre-match option for betting on cricket is picking a player for Top Batsman. This involves identifying which player will score the most runs in the upcoming innings. Your pick is competing against the rest of his teammates for the accolade. The player who scores the highest tally is deemed the winner.
Players like Virat Kohli will be popular in Top Batsman betting. Sometimes though, there's a surprise at big odds. If England are headed for a low score but an explosive player like Ben Stokes or Jos Buttler gets going, the runs can rack up very quickly indeed.
Man of the Match
In every major cricket game there's a Man of the Match award presented to the best player on the pitch. Because everyone playing is eligible, picking the winner can be tricky, but the market also promises bigger prices because of the multiple outcomes.
Will a batsman like Rohit Sharma show his class and lead India to victory or will the prize go to a bowler like Stuart Broad who has swung the game in England's favour? Predict the Man of the Match correctly and it could be a handsome return.
Tournament Winner
Want a long term bet on cricket? Getting involved in predicting the tournament winner could be a good option. Some cricket betting sites price major events such as the IPL, Ashes or World Cup years in advance. If your selection is crowned the winner, then you'll have some returns to collect from your bookmaker of choice.
Each way betting is possible in cricket too. So, if you backed Australia to win the next T20 World Cup and they lose to India in the final, you could still get something back from your original stake.
Total Innings Runs
One of the most popular options for live cricket betting is total innings runs. The market usually refers to the upcoming or ongoing innings and you simply predict if the score will be higher or lower than what the betting site are offering. Often, you'll see bookies going 5/6 (1.83) or 10/11 (1.91) on both the over or under at a particular run line.
For example, you could back England to score over 299.5 runs in an ODI match against Australia at Lord's. If the home side can build a tally of 300 or higher before the innings is complete then your bet will be a winner.
Total 6s Scored
Want a bet that will last the whole game? Total 6s scored could be for you. Popular in limited over formats such as T20 and ODI, you can pick over or under a set number of maximums to be scored across both innings. The players and playing conditions can play a big part in this bet. You'll often find higher lines in IPL matches at the M. Chinnaswamy Stadium when the Royal Challengers Bangalore are in action. As a high-scoring ground, betting sites will expect more balls to fly over the ropes here than other cricket stadiums.
Can You Trust Cricket Betting Tips?
Not sure what to choose when betting on cricket? Consider following some expert predictions. Be sure to look for a trustworthy website or individual who has a good understanding of the markets.
Backing someone else's cricket betting tips can be a good choice if you're short of time or are unfamiliar with the teams involved. Remember to always gamble responsibly though, whether you're predicting cricket matches yourself or on someone else's advice.
Most Popular Cricket Competitions
Cricket is a truly global sport. Now that we've shown you how to recognise top-tier cricket betting sites, it's time to talk about what events to bet on. Test cricket sees the best international teams do battle across multiple days, but domestic competitions have become some of the most popular choices for online betting. These matches are usually run and/or managed by national organisations such as
ECB – (England and Wales Cricket Board)
BCB – (Bangladesh Cricket Board)
BCCI – (Board of Control for Cricket in India)
Cricket-playing nations have started their own competitions, usually in the T20 format with several competitions. such as the Indian Premier League, having privately owned franchises. These teams have huge budgets and attract the world's best players to wear their colours for a few weeks every year.
Indian Premier League (IPL)
International Series such as the Ashes
T20 World Cup
ODI World Cup
Big Bash League (BBL)
Bangladesh Premier League (BPL)
Pakistan Super League (PSL)
T20 Blast
Msanzi Super League (MSL)
Cricket Betting FAQs