Supabets is the nation's answer to both online betting and bet shops. This Supabets review has everything you need to know to decide if this the betting site for you.
Find out why our reviewers think this is the best sign up bonus in South Africa, or how Supabets earned our seal of trust. We leave no stone unturned.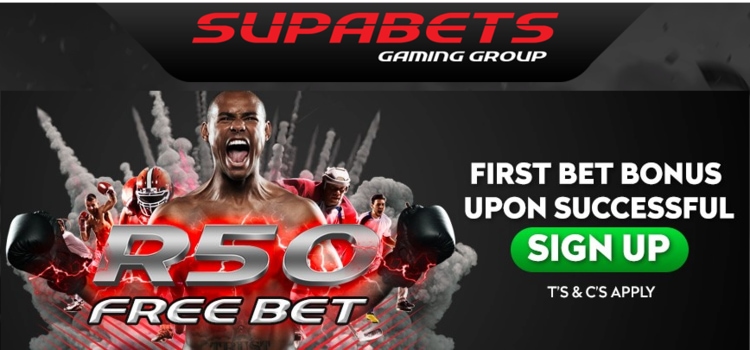 Supabets R50 Sign Up Bonus
As you can see below, as long as your first deposit is at least R50, then Supabets give you a R50 free bet. This definitely isn't the biggest bonus we've seen in recent times, but that's actually something that works in punters' favor.
Supabets R50 Sign Up Bonus
100% up to R50 Free Bet
Min. Deposit R50 – R50 Free Bet credited the following day – Wagering Requirement: 3x Bonus amount – full T&Cs apply – Gamble Responsibly.
The Supabets R50 sign up bonus for sports bettors may not look like the flashiest one out there, but it's still one of the best bonuses for South African punters, in our opinion.
What makes this bonus so special is that it's one of the easiest to redeem welcome bonuses in SA right now. The terms and conditions are a lot more realistic than we're used to seeing from local bookmakers, meaning punters can expect to get real value from it.
With a wagering requirement of just 3x bonus amount, punters can likely meet those requirements over a single weekend. The odds restrictions might make this a little tricky, but the key term here is "a little."
Overall, we think that the Supabets R50 sign up bonus does a great job of offering something realistic and achievable to bettors, instead of trying to draw them in with huge numbers that can't realistically be turned over, like some other bookmakers do.
Key Terms and Conditions
All Accounts will be credited the following day at 7am.
Deposit: R50
Bonus Amount: R50 Free Bet
No odd/even or high/low Supanumbers bets allowed for qualification of bonus.
Wagering Requirements:

3x Bonus
Only bets of odds of 11/10 (2.10) or better count towards wagering requirements

Free Bet Restrictions:

Only single bets may be placed with bonus funds
No split bets are allowed for qualification of the bonus or rolling of the received bonus amount.

18+ New Customers only
This offer is only available to residents of South Africa
Full T&Cs apply
Fantastic Promotions for Existing Users
It isn't just Supabets' welcome bonus that helps add value to your betting experience. Supabets have a great selection of ongoing promotions and offers for their existing users, too.
As you'd expect, most of these offers are tied to specific sports and events, so the selection updates relatively frequently. This means that even very casual, event-based bettors have a chance of being able to get a freebie or some added value through a promotion.
It's normal to see smaller to medium bookmakers like this one feature 2 or 3 promotions at any given time. At the time of writing, though, Supabets were running 8 different sports promotions, not including their welcome offer.
These promotions and offers come in the form of free bets, bet insurance, cashback, and even odds boosts, and more. We definitely recommend keeping an eye on their promotions page to be able to take advantage of any offers that might suit you and your betting style.
Is Supabets Safe?
One of the first things we look at when reviewing bookies is whether they have a valid license to operate in South Africa, especially when it comes to local brands that only serve this market.
Luckily, Supabets doesn't give us very much cause for concern. Supabets is licensed by the Mpumalanga Gambling Board (#2009/016148/07). This means that they need to toe the line when it comes to requirements that have to do with fairness, cybersecurity, and keeping user' funds safe.
Supabets isn't just a betting site, though. Some of you may recognize them as a brick-and-mortar bet shop, and they manage to combine their physical and online presences in some pretty convenient ways.
The fact that they're a recognizable chain of bet shops is also a great sign that Supabets can be trusted. Supabets are a South African company, with a publicly available corporate address and betting licence.
Deposits & Withdrawals
As Supabets only operates here in South Africa, it isn't surprising to see that they support a wide variety of local payment methods. Punters should have no issues when it comes to finding a method to use, even if they don't want to use their bank account at Supabets.
The fact that they support 1Voucher, as well as cash deposits and withdrawals from their brick-and-mortar bet shops makes it extremely easy for punters who want to keep their banking information private.
The biggest downside, though, is that deposits at Supabets are not instant, like many of their competitors.
Even after having your FICA documents approved, deposits can take up to 24 hours to appear in your account. Punters need to plan ahead when betting at Supabets, which is an odd issue for an online bookmaker to have nowadays.
Withdrawals
Like all other locally licensed bookmakers, punters can only make withdrawals at Supabets after the FICA verification process. Luckily, though, this can be done within a day or two.
The withdrawal options are a little more limited than deposit options, as you can see below, but Supabets still make withdrawals simple, easy, accessible.
Supabets Withdrawal Methods:
Cash withdrawal from a Supabets bet shop
Bank transfer
Spark Pay cardless ATM withdrawal
Once you complete the FICA verification process, you're free to start making withdrawals from your Supabets account. However, you should be aware that there are some limits and conditions applied to withdrawals. These are the most relevant:
Less than R25,000:

24 hours if using FNB, Nedbank, ABSA, or Standard Bank
Up to 3 working days if using a different bank

R24,999 to R49,999:

Resubmission of FICA documents
Same as above from FICA document approval

R50,000+:
No withdrawals over R25,000 are processed at weekends
Withdrawal: R50
Max. Withdrawal: R5,000,000
Deposit Options
Withdrawal Options
Accepted currencies
The Supabets Betting Experience
So far everything in this Supabets review has been pretty great. They have a great sign-up offer, decent banking options, and there are clear reasons to trust them. However, now we need to take a look at how their actual betting suite shapes up.
When it comes to Supabets' range of sports and events, our review testing revealed a perfect score. Everything we looked for was available, and we can see that punters are extremely well served in this area.
Betting Markets
Supabets featured 130 markets on the same English Premier League match we used below for our odds comparison. Dafabet, the bookie we also compared Supabets to in our odds comparison, featured only 72 pre-match markets.
This means that Supabets featured almost double Dafabet's markets for the match, which is impressive when you consider that Supabets only operates in South Africa.
Unfortunately, the same can't be said for every sport offered by Supabets. In the case of cricket matches, we looked at the pre-match odds for the Indian Premier League. While Dafabet featured over 100 markets per match, Supabets averaged out at only around 20 markets per match.
However, Supabets still had a few cards up their sleeves when we took a look at the pre-match rugby markets for the Six Nations. Supabets averaged around 30 markets per match, while Dafabet offered a paltry 9.
Cash Out
As a local, South African bookmaker, we're really pleased to see that Supabets actually has a Cash Out feature. However, how does Supabets stack up against their more international competition?
For starters, Supabets only offers full Cash Out, so those who rely on using Partial Cash Out are out of luck. Punters should also note that there' no Auto Cash Out feature, so you need to be eagle-eyed and quick on your feet.
Unlike some other local betting sites, Cash Out is available on both single and multiple bets. However, Cash Out is only available on multiples if any selections that have been settled are winning selections.
Unfortunately, there's one issue that truly limits the usefulness of Supabets' Cash Out feature: you can't use Cash Out on most in-play bets. Cash Out is only available for live betting on a select number of soccer matches, meaning that punters who use Cash Out as part of their in-play betting strategy are out of luck.
Supabets' Cash Out is more reliable than some other local, South African bookmakers, but the lack of Partial Cash Out limits its usefulness. The lack of in-play cash out renders several in-play betting strategies completely useless.
Odds Comparison
When it comes to local, South African bookmakers, they aren't always the most competitive when it comes to odds pricing. We put Supabets up against a bigger, global bookmaker to see how their odds stacked up. Let's just say we were more than a little surprised…
 
Supabets
Dafabet
West Ham United
7.60
7.00
Draw
5.50
5.40
Manchester City
1.34
1.38
Overround
105.97%
105.27%
*Odds are for display purposes only and were correct at the time of writing. We make no guarantees that these odds are still available when reading this.
As you can see in the table above, Supabets manages to keep up with even Dafabet, an international bookmaker that operates on a much more global scale.
As we saw in their overround scores, both bookies even apply a near-identical profit margin to their odds. Considering Dafabet is a much bigger betting operator, it's a little surprising to see that they haven't shaved their profit margin down a little, but this means that choosing the local, South African Supabets over a company like Dafabet is even easier.
While Dafabet has odds that are a fraction better than Supabets' price for the match favorite, this doesn't make much of a difference in real life. A R100 winning bet on Manchester City would give you a return of R34 profit, while Dafabets would net you R38, making it a negligible difference.
Bet on Sports
American Football
Basketball
Baseball
Hockey
Boxing
MMA
Horse Racing
Golf
Cycling
F1
Rugby
Australian Rules Football
Tennis
Cricket
Football
Handball
Volleyball
Darts
Motorcycling
Futsal
Field Hockey
Betting tax
Casino games
Keno
Blackjack
Slots
Table Games
Live Dealer Blackjack
Live Dealer Roulette
Supabets On the Go
Whether you like placing bets on the go, or would just rather use your phone than a desktop or laptop, Supabets have a great mobile-friendly site.
All the betting features we described above are available on the mobile site, so there's no functionality lost. No matter what device you're using, you'll be able to use everything that Supabet has to offer.
There are no Supabets apps for Android or iOS, but we actually think this is a really good thing. Instead of having apps that may or may not be up to date with their site, they focus on a great mobile site that works on almost every device with an internet connection.
The best part is that Supabets have a Data-Free version of their mobile site! This means that you can place your bets without having to worry about your data limit or extra charges, even when there's no WiFi around!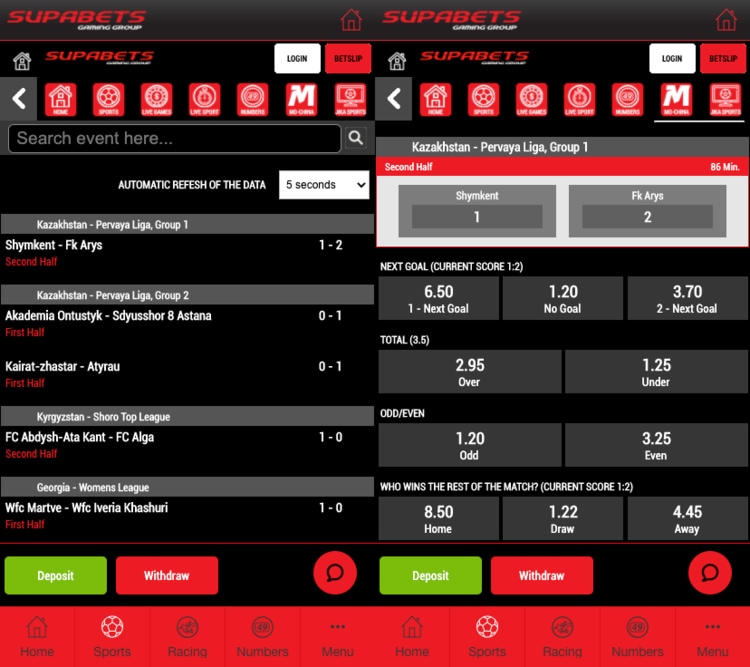 Live Betting
Supabets' live betting platform is decent, though punters looking for a top-notch in-play betting experience might be best looking elsewhere.
Odds refresh quickly enough, though the number of live betting markets isn't as varied as we'd like. Also, Supabets only support a select number of matches and races for live wagering. Punters can see which matches will be included in in-play betting ahead of time in their handy Calendar in the live betting suite.
The biggest problem is that Cash Out isn't available in-play, except for select soccer matches. This means that any live betting afficionados who employ betting strategies that rely on this feature will need to rethink how they approach live betting at Supabets.
Does Supabets have Live Streaming?
No, Supabets doesn't feature live streaming of any sports events. It's an expensive feature to add, which is why it's generally the bigger and more global brands that are able to incorporate that.
A match tracker is available, though the information displayed differs for each sport. While punters can likely find some utility in soccer matches, we don't recommend relying on it for in-play cricket betting, for example.
The Supabets VIP Club
Unlike some other betting sites, Supabets are transparent about their VIP membership. They clearly state what their requirements, benefits, and conditions are, making it easy for users to know if they might qualify.
Unfortunately, though, the Supabets VIP club may not be right for some punters out there, as it requires punters to spend money on features other than sports betting, like slots and casino games.
Supabets VIP Club Requirements:
Spend R75,000 on Sports and Numbers during the month
Spend R250,000 on all other games EXCLUDING Sports and Numbers
If you happen to be a punter who likes playing those kinds of games, then Supabets have some pretty enticing VIP benefits:
Supabets VIP Benefits
10% of losses on Sports and Numbers returned to you each month
5% of losses on BetGames, JIKA, and Spin & Win returned to you each month
10% deposit bonus on every deposit
VIP WhatsApp contact with bookmakers
VIP telephone helpline to bookmakers
Higher limits
Tickets to sporting events
Early access to new products, offers, and promotions
Exclusive VIP offers, promotions, and competitions
Just remember, though, like everything else available on betting sites, there are still terms and conditions to keep in mind in order to qualify for and retain those benefits.
VIP Club Terms & Conditions:
All VIP bonuses have wagering requirements of 2x bonus amount at odds of 5/10 or better
Monthly criteria apply to maintain VIP status
The entry requirements and benefits of the Supabets VIP Club are subject to change, but luckily are available on Supabets' promotions page.
Supabets reserve the right to deny any user VIP status, despite the criterion listed above or on their website.
Customer Service
Getting in touch with Supabets is really easy, as there are plenty of ways to get in touch with Supabets. From their telephone helpline, to their 24/7 live chat, to their many social media platforms, there's always some way to get in touch with them.
However, good customer service is about a lot more than just being accessible, though…
Our Supabets Live Chat Experience
When testing Supabets' live chat feature, we found that it took around 3 minutes, on average, to get connected to a human operator, and you're required to provide your email and phone number if not logged in (like, for example, if you're having password issues).
Once you're connected to an operator, though, things are far from smooth. Live chat operators go silent for minutes at a time with no warning, likely having to juggle multiple chats at once.
One of the live chat operators we spoke with didn't seem to know that live betting and in-play betting are the same thing, and struggled when we asked some commonly asked questions about Supabets' Cash Out feature.
Unfortunately, we were given information that was contradictory to the terms and conditions on their site, which would cause an average punter confusion, or even mislead them. In fact, we even had to correct the customer service representative, who then pretended that that's what they had been saying all along.
We definitely recommend using their helpline or email if you need to get in touch with Supabets, as our experience with Supabets' live chat was far from useful.
Supabets Contact Details
| | |
| --- | --- |
| Email: | [email protected], as well as an on-site fillable form to create support tickets |
| Telephone Helpline: | 011 215 7000 |
| SMS Help: | 313888 |
| Live Chat: | Available (24/7) |
| FAQs: | Available, split into 10 topics, includes how-to guides, instructional videos, and screenshots |
| Twitter: | @Supabets_za |
| Facebook: | /Supabets |
Meeting South Africa's Needs
When it comes to talking about Supabets' most important markets, this is an easy one. Supabet are focused on being South Africa's best bookmaker.
From their accessibility to those who don't have bank accounts, to their Data-Free mobile site, Supabets are out to win South African punters' loyalty through convenience and catering specifically to our needs.
Supabets Review: Final Thoughts
As is our tradition, we're going to end this Supabets review by answering the most important question:
Who do we recommend Supabets to?
Supabets is an excellent choice for punters who love pre-match betting. They have excellently priced odds, an amazing selection of betting markets, and some great betting features.
Pros
Great selection of local payment methods

Excellent welcome bonus

Great selection of promotions and offers for existing users

Easy to get in touch with

Well priced odds
Cons
Unprofessional live chat operators

Slow deposits

Below-standard live betting experience
FAQs