Smarkets is a betting exchange where you are betting against other users instead of trying to beat a bookmaker. This means that it gives you the opportunity to implement trading strategies, or simply treat it as another place to make some wagers in the normal way.  We will look here at their interesting welcome offer, as well as details such as the banking methods accepted and the support offered, to see whether it is a good way of making bet.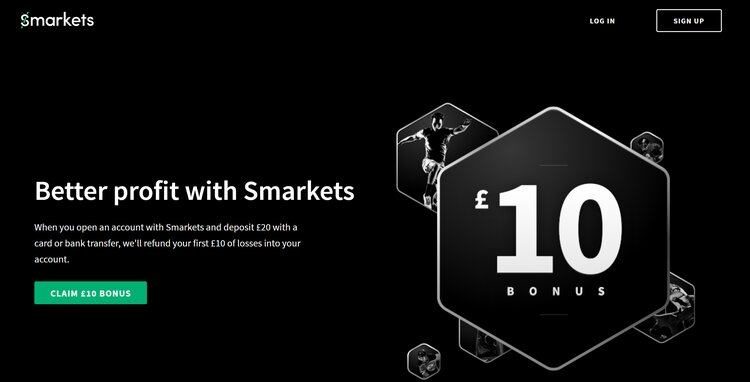 Smarkets Bonus for New Customers
Newcomers to the Smarkets site get a £10 bonus when they start wagering here. The offer is set up in a different way from the welcome bonuses we have seen on other betting sites in the UK market. Rather than giving you a free bet for the £10, for example, they give you a refund for this amount on the first £10 that you lose.
The truth is that you could look on this as being the same as a £10 free bet, but some people might be put off by the way the offer is worded. Perhaps it works out best for the operator in this way, as they don't need to pay the refund on winning bets, or they feel it is more suited as this is a betting exchange rather than a bookmaker. But it seems like a fairly decent offer that could be worded a little better.
Of course, someone who wins their first bets on this site won't be all that bothered about not receiving the bonus, while anyone who has less success will be happy to get another go using their refunded money.
 
Bonus
Code
Deposit #1
Free
 None
Significant terms: Only card and bank transfer deposits are eligible. Bets need to be made within seven days of the deposit.
By looking more deeply at the terms and conditions, we can see that this Smarkets offer is a bit better than it initially looked. With none of the difficult betting requirements we have seen on some sites, it is quite an easy bonus to use in a way that suits you.  
Smarkets Bonus Terms and Conditions
Wagering requirement: None
Minimum odds: None
Sports restrictions: None
Expiration period: Seven days
Other restrictions: Only card and bank transfer deposits
It isn't a huge bonus and no doubt a higher figure would be more attractive, while the restrictions on the deposit methods will stop some people from claiming it. Yet, it is about the usual level for a sports betting bonus in the UK market now and we like the fact that you can feel good about not having to claim it if you win with your first bets. 
Other Promotions
There are no other Smarkets promotions listed at the time of this review. As this is a betting exchange, there is a bigger emphasis on allowing members to access low-cost wagers than on special offers. This means that it would be unfair to compare the site and its promotions to bookmakers, who essentially offer a different type of product.
Can Smarkets be Trusted?
This is a fully-regulated gambling site that has a UK license and is regulated by the authorities in Malta for customers who live in other parts of the world. With the use of the latest technology and a responsible gambling approach, it is clear that this is a betting site that can be trusted.  
The online reviews vary widely, as is commonly seen with betting services. Some members have made comments about being unhappy with the odds, speed of service and so on, but there is nothing to suggest that this is any sort of a scam.
Payment Methods at Smarkets
A decent selection of some of the most popular banking methods among British punters means that getting started by adding funds is easy enough. You should bear in mind that bank transfer and debit cards give you access to the welcome bonus, although if you win money then these are the slowest withdrawal methods. For speed and convenience, e-wallets like PayPal and Skrill are probably best but using them means that you miss out on the bonus.
Withdrawal Times and Limits at Smarkets
The limits are good, as they give you a lot of flexibility when choosing how and when to withdraw money. However, the processing time for some methods is quite long when compared to other betting sites. They used a closed loop system, which means that you need to withdraw using the same method that you used to make your deposit.
| | | |
| --- | --- | --- |
| Payment method | Withdrawal time | Limits |
| Bank transfer | Up to ten business days | Minimum £20No maximum |
| Open banking | 12 hours | Minimum £10No maximum |
| Debit card | Up to six business days | Minimum £10No maximum on most cards |
| Neteller | Up to two business days | Minimum £10No maximum |
| Skrill | Up to two business days | Minimum £10No maximum |
| Trustly | Up to two business days | Minimum £40No maximum |
| PayPal | Up to two business days | Minimum £10Maximum £5500 |
The main issue of slow withdrawal times could perhaps be improved if they added slicker methods such as cryptocurrencies. The addition of open banking as their fastest withdrawal option is certainly a step in the right direction.
Deposit Options
Withdrawal Options
Accepted currencies
Sports Betting
The sports betting area on the Smarkets site is impressive, with headings such as popular events, top markets and popular categories all making it easy to find interesting to bet on no matter what your interests are. It is very well laid out, so that a huge amount of data is shown without it being difficult to read and understand.
If you haven't used a betting exchange before, you might find it a little difficult to understand the different way it works compared to a bookie's site, but it should only take you a moment to get to grips with it.  
Odds Comparison
Before comparing the Smarkets odds to other sites, it is important that we note that betting exchanges operate differently from bookmakers. They don't make a profit through offering lower odds and creating an overround. Instead, you bet against other users so the overround will always be very close to 100%, meaning that you are betting on odds that accurately reflect the possibility of something occurring.
However, they take a small amount of commission off your winnings, with Smarkets taking off 2% commission for most of their members. Therefore, we have compared their odds to the Betfair exchange as well as a more traditional bookmaker. It is also worth mentioning that some markets may lack liquidity, which can make it difficult to place the bets you are interested in.
| | | | |
| --- | --- | --- | --- |
| 3 November 2021 | Smarkets | Betfair | Novibet |
| Real Madrid | 1.23 | 1.23 | 1.25 |
| Draw | 7.4 | 7.4 | 6.5 |
| Shakhtar Donetsk | 17 | 17.5 | 10.50 |
| Overround | 100.7% | 100.53% | 104.91% |
The same pattern can be seen if we look at the NBA, with Cleveland Cavaliers at 2.44 and the Portland Trailblazers at 1.7 in their upcoming match.  William Hill has these teams as 2.70 and 1.53, respectively.
In the rugby union section, Ireland (1.12) vs Japan (8.4) is listed, with the draw at 34. We compared this to the Paddy Power odds, where Ireland are at 1.08, Japan at 8 and the draw at 26.
Finally, you should bear in mind that you can bet for or lay against an outcome on a betting exchange like Smarkets. These examples are all based on "for" bets.  
Features
This is a solid betting exchange where you will find all of the features you would expect. Placing a wager is very simple, as you choose the option you want and then the amount of your stake.
Cashout
Cashing out here is done using the green button that is marked as trade out. You can do this before the event begins or during it, with the current price always listed here. It is even possible to trade out of multiple positions at once by selecting various bets together.
Bet Builder
Choose and confirm several selections to add them onto your betting slips as multiples. As you would expect, you will only be allowed to select options that can go together, and will be advised if you try to make an incompatible bet.
Quick Acca
Search the site for accumulators and you may find some of the pre-made accas that they offer. Otherwise, you can build your own by adding several bets at once.
Blog and Community
The Smarkets HQ site brings a range of blog posts relating to the business and culture side of things, rather than being focussed on sports betting. For the latest price movements and interesting pieces of news, you could check their Twitter page. They have over 12,000 followers on here and post several times a day.
The forum is the best place to chat about sports or ask about any issues you want resolved.
Bet on Sports
American Football
Basketball
Baseball
Hockey
Boxing
MMA
Horse Racing
Golf
Cycling
F1
Rugby
Australian Rules Football
Tennis
Cricket
Football
Handball
Volleyball
Darts
Motorcycling
NASCAR
Futsal
Olympic Games
Snooker
Field Hockey
Kabaddi
Greyhound Racing
Betting tax
Mobile
A mobile betting approach can be carried out at Smarkets by downloading their Android or iOS apps. They call it the most technologically advanced betting site around, so it is no surprise to see a slick app that is easy to navigate and covers all of the same functionality as the desktop site.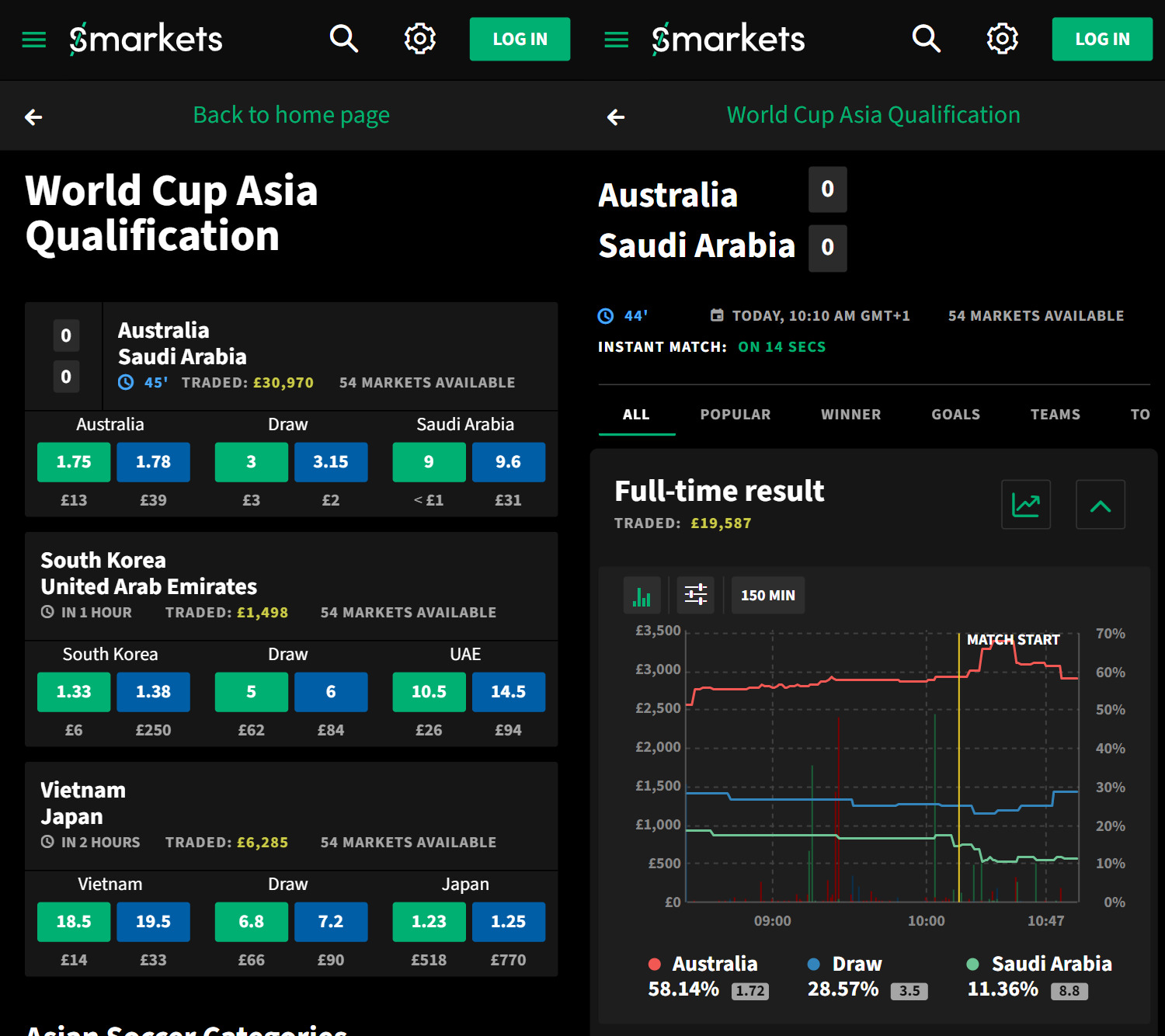 Live Betting
One of the main areas of appeal for a lot of Smarkets users is the way that you can trade positions while games are going on. Click on the in-play button to see what the options are right now.  Because this is a betting exchange, the odds are updated constantly as players trade, so the theory is that they always offer the most accurate odds at any given time.
Live Streaming
Live streaming is available "for market makers only", according to the Smarkets site. Anyone who isn't a pro can follow the action with the help of a decent amount of graphics and statistics that are posted on each game as it goes on.
VIP
The only incentive we could find for VIP customers is a lower commission rate of 1% on the Pro Tier. This is the amount that is charged for those customers who place a large number of bets each month.
Customer Support
We contacted the support team by live chat, to ask a few questions about the welcome bonus. The answer took a couple of moments to arrive and all of the relevant information was nicely presented. We also liked the fact that the agent replied using the name from our account, which isn't always the case on live chats.
The only thing that could perhaps be improved is with something telling us what position we are in the queue and how long it should take to reach an agent. Other than that, it was an efficient, friendly service that gave us the right answers.
Contact Details
Email:

[email protected]

Phone:  +44 207 617 7413 (0900 to 0000)
Live chat: 24/7 for logged in customers
FAQs: Yes
Markets
This site has targeted the betting exchange market in the UK; where people can look for better odds than those given by the bookies, and where they can carry out lay betting. It is an increasingly popular approach and Smarkets has established itself as one of the leading names. A lot of their investment has been in putting together the IT infrastructure that makes the system work.  
Football trading is the most popular part of their offering, as we can see by the fact that football matches dominate the home page. The fast-moving nature of this sport makes it ideal for trading, while horse racing and other typical sports are also well covered here.
Join Now
The Smarkets website gives us a different way of betting, as we can trade in different sports and bet against other users rather than a bookie. With great technology and a decent welcome offer, it is easy to see why people might be interested in giving this way of wagering a try. There are a few minor issues with things like withdrawal processing times and the limited nature of the welcome bonus, but overall this is a site that does exactly what you would want it to.
Pros
User Friendly layout

Greyhound market available
FAQs
What sports are included?
Smarkets has sections for football, horse racing, basketball and other major sports that you would expect to be able to bet on. The less widely-seen sports include MMA, table tennis and volleyball, among others.
Can matched betting be carried out here?
Yes, this site lets you lay bets, which is one half of the overall matching betting process. The lay bet is on something not happening, while the back bet covers it happening so that you have all outcomes covered.
Are eSports included?
Yes, at the time of writing there were three main eSports categories: CS:GO, Dota 2 and League of Legends. Many big events and the top teams are available, although the small amount traded so far on upcoming matches suggests that liquidity may sometimes be an issue.
What else can I bet on?
The site has a politics section where you will find British and international political events all available. A section covering TV and entertainment has categories such as Dancing on Ice, Oscar winners and the next James Bond.